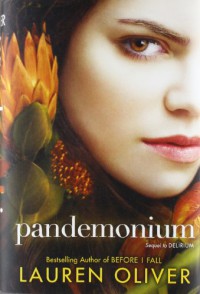 'Pandemonium' by Lauren Oliver definitely trumps the first in the trilogy, 'Delirium,' and the first book was a really good one!
'Delirium' leaves the reader wanting to know what happens to Lena when she escapes into the Wilds. Surprisingly, in the beginning of 'Pandemonium," Lena is back in school, back in the "civilized" part of the country where love is viewed as a disease.
The reader learns about what happened after Lena watched Alex get shot while they both were trying to escape (at the end of the first book). Only Lena made it over the fence to freedom.
The story is told in alternating chapters of "Then" and "Now." Throughout the book, Lena mourns the loss of Alex, her first love -- the one who taught her that love is not really a disease, but something precious.
Life in the Wilds is not easy. Life is fragile when any shelter is make-shift, food is scarce and medicine unavailable.
Read the whole review at: http://www.examiner.com/young-adult-fiction-in-chicago/pandemonium-by-lauren-oliver-is-even-better-than-delirium-review